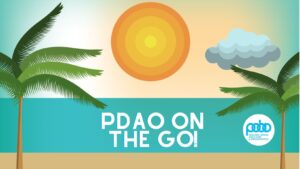 https://youtu.be/F4xZb8H9xVE
We've heard about all of your summer trips, camps, and other fun activities, and we need to be honest with you...we are jealous!  We've been working hard at the PDAO offices, and we're tired of missing out on all of the summer fun, so we came up with a solution that works for everyone! 
Swing by the office and pick up a doctor-on-a-stick!  We created a bunch of miniature versions of our doctors for you to take along with you to all of your favorite summer activities.  Plus, there's a big prize involved!  
Take your doctor-on-a-stick with you on your trips, and take a photo of the two of you having a blast.  Post that photo to social media and tag us to enter the giveaway.  We'll be choosing one lucky participant to win our PDAO summer prize pack, which includes a few PDAO beach towels, a $200 gift card to the place of your choice, and much more!  
We will also be giving away a prize to whoever can take their doctor the farthest away from home, so make sure you pack us for your trips outside of the country!
We can't wait to be included in all of your summer fun!